Portrait de Stratos : Maria Mäkimattila [Stratos 2010]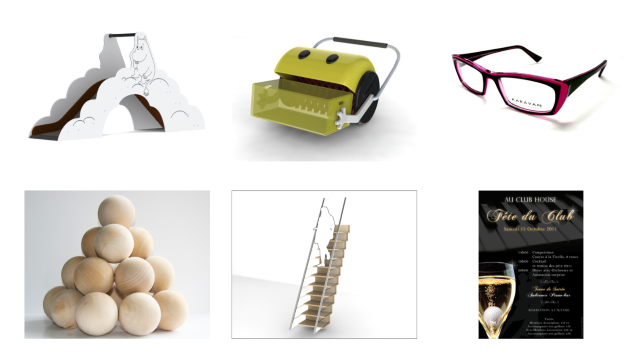 Retail designer from Scandinavia!
"Nowadays I am happy to say I work in prosperous the design field for different kind of clients. In the future, I wish to design and create my own design products"
I am Maria from Finland. I began my studies in 2008 in Strate School of design to get the master's degree in industrial design after graduating as Designer Bac+4 in Finland. After getting this French master's degree in product design field, I got employed in the southwest part of Finland, where I grew up.

These photos are from spring 2019, Turku and from our cottage, where I live and spend my summers.
In Strate we had one course, where we took parts in Dyson design competition. I designed Sweepy, a machine to clean little toys (Legos') from the ground. Unfortunately, I didn't win, but I had lot of fun designing this product.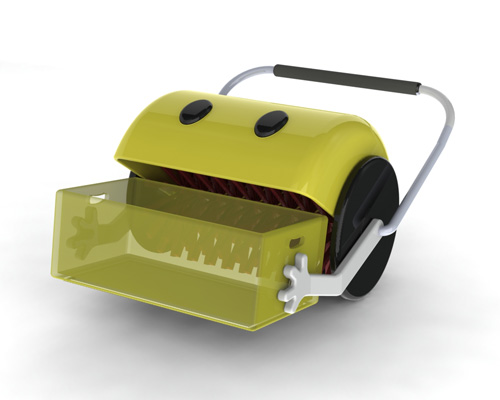 As a trainee during my studies in Strate, I designed eyewear frames at Karavan Production, this French company creates, manufactures and distributes optical frames for adults and kids. For six months I had possibility to create models and follow the production line from the beginning until final product.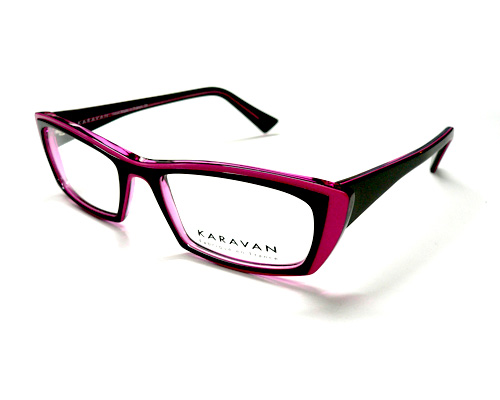 After moving back to Finland in 2010 I designed outdoor sport and playground equipments at Puuha Group in Turku.I designed swings, playhouses and this small slide with the "Moomin" cartoon figure as decoration, a very famous figure in Scandinavia and in Japan, (famous as much as French Barbapapa cartoon)

Here is one sample of sport equipment "Street Workout", this was nice project realized together with "Association Finnish Street Workout". Street workout is a modular sport equipment for workout with your own bodyweight. It is suitable for private or public areas.

After 5 year work experience at Puuha, eight other people, as creative minds like myself, we co-founded in 2015 a cooperative company called Ainova. We are a work team composed of graphic designers, artists, industrial designer, engineer (etc.) based here in Turku, where I live nowadays. We all work as an independent entrepreneur but sometimes we also have projects together such as workshops or new product concepts.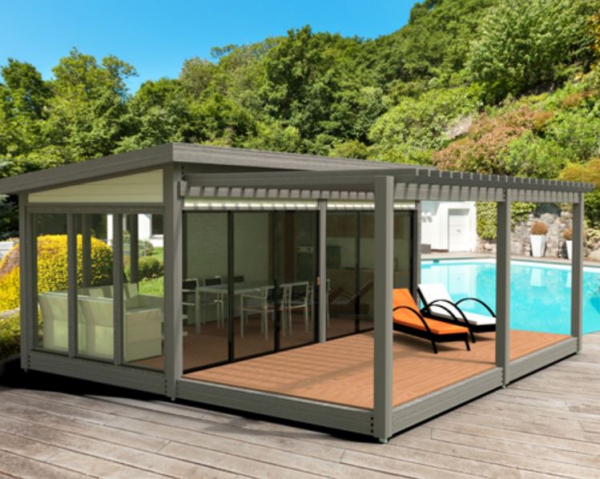 In 2016, I began to work with Booth Group Oy. I am designing different exhibition stands for fairs in Finland and Europe.
Booth Group had a collaboration with a French company Elsevier, ...
It was a great experience to practice my French again and develop a booth for AMEE conference held in Helsinki.
Strate Alumni : What is your vision about design today, but also for the following years as well ? / Qu'elle est ta vision du design aujourd'hui ? Et pour les années à venir ?
Maria Mäkimattila : Today, my vision of design is quite practical and productive. As an entrepreneur sometimes, the narrow timetables and number of projects take dominance, but I try my best always to take time to follow what is happening around design (articles, news, releases etc.) In the future I wish to have more time to concentrate on my own design. I think specially in Finland, there is place and possibilities for new design,like ecological design. In my opinion we must do something fast before we lose our planet and designers are in the core of this change to better world.
SA : What do you remember about studies/time you spent at Strate school of design ? How do use this knowledge in your working approach daily ? / Que retiens-tu de ton passage à Strate ? Comment l'appliques-tu dans ton travail de tous les jours ?
M.M. : My two years studies at Strate were the best thing that could happen to me, regarding the educational view but also about social and cultural point of view.As a foreigner it was a challenge for me. Other students and especially teachers were so kind, helpful and understanding. I feel I use these experiences and knowledge almost every day in my work and in my life.

SA : What would be your tips/advice for the coming design batch generation ? What are the stakes as a professional designer according to you ?/ Quels sont tes conseils pour la nouvelle génération ? Quels sont les enjeux du métier selon toi ?
M.M. : I have learned that the practice and daily work is the best teacher. The school gave me a really good base for the profession. But the rest comes by the work and practice on real projects. If I would share some advice today, I would give a great importance to the projects realized together with companies around some real-life projects. It was nice as a student to be able to "fly and dream" with imagination, but in a real-life work environment it is also very important for a designer to get a large knowledge of manufacturing and production methods. I also would like to encourage all designer to follow the dreams and not to be afraid to build own company and become an entrepreneur. I think that is the best way to realize what you really want to do.
Please, feel free to contact me for a chat or some advice whenever you like, I will do my best to help you. :)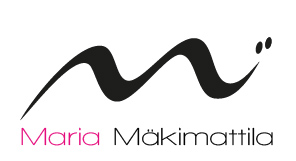 Portrait de Stratos : Maria Mäkimattila [Stratos 2010]
2019-06-05 14:28:58
stratecollegealumni.fr
https://www.stratealumni.org/medias/image/2063277385572fc559d238.png
2019-06-05 14:28:58
2019-05-10 16:34:44
Benjamin Delaoutre
Retail designer from Scandinavia!"Nowadays I am happy to say I work in prosperous the design field for different kind of clients. In the future, I wish to design and create my own design products"I am Maria from Finland. I began my studies in 2008 in Strate School of design to get the master's degree in industrial design after graduating as Designer Bac+4 in Finland. After getting this French master's degree in product design field, I got employed in the southwest part of Finland, where I grew up.These photos are from spring 2019, Turku and from our cottage, where I live and spend my summers. In Strate we had one course, where we took parts in Dyson design competition. I designed Sweepy, a machine to clean little toys (Legos') from the ground. Unfortunately, I didn't win, but I had lot of fun designing this product.As a trainee during my studies in Strate, I designed eyewear frames at Karavan Production, this French company creates, manufactures and distributes optical frames for adults and kids. For six months I had possibility to create models and follow the production line from the beginning until final product. After moving back to Finland in 2010 I designed outdoor sport and playground equipments at Puuha Group in Turku.I designed swings, playhouses and this small slide with the "Moomin" cartoon figure as decoration, a very famous figure in Scandinavia and in Japan, (famous as much as French Barbapapa cartoon)Here is one sample of sport equipment "Street Workout", this was nice project realized together with "Association Finnish Street Workout". Street workout is a modular sport equipment for workout with your own bodyweight. It is suitable for private or public areas.After 5 year work experience at Puuha, eight other people, as creative minds like myself, we co-founded in 2015 a cooperative company called Ainova. We are a work team composed of graphic designers, artists, industrial designer, engineer (etc.) based here in Turku, where I live nowadays.  We all work as an independent entrepreneur but sometimes we also have projects together such as workshops or new product concepts. In 2016, I began to work with Booth Group Oy. I am designing different exhibition stands for fairs in Finland and Europe. Booth Group had a collaboration with a French company Elsevier, ...It was a great experience to practice my French again and develop a booth for AMEE conference held in Helsinki. Strate Alumni : What is your vision about design today, but also for the following years as well ? / Qu'elle est ta vision du design aujourd'hui ? Et pour les années à venir ?Maria Mäkimattila : Today, my vision of design is quite practical and productive. As an entrepreneur sometimes, the narrow timetables and number of projects take dominance, but I try my best always to take time to follow what is happening around design (articles, news, releases etc.) In the future I wish to have more time to concentrate on my own design. I think specially in Finland, there is place and possibilities for new design,like ecological design. In my opinion we must do something fast before we lose our planet and designers are in the core of this change to better world.SA :  What do you remember about studies/time you spent at Strate school of design ? How do use this knowledge in your working approach daily ? / Que retiens-tu de ton passage à Strate ? Comment l'appliques-tu dans ton travail de tous les jours ?M.M. : My two years studies at Strate were the best thing that could happen to me, regarding the educational view but also about social and cultural point of view.As a foreigner it was a challenge for me.  Other students and especially teachers were so kind, helpful and understanding. I feel I use these experiences and knowledge almost every day in my work and in my life.  SA :  What would be your tips/advice for the coming design batch generation ? What are the stakes as a professional designer according to you ?/  Quels sont tes conseils pour la nouvelle génération ? Quels sont les enjeux du métier selon toi ?M.M. : I have learned that the practice and daily work is the best teacher. The school gave me a really good base for the profession. But the rest comes by the work and practice on real projects. If I would share some advice today, I would give a great importance to the projects realized together with companies around some real-life projects. It was nice as a student to be able to "fly and dream" with imagination, but in a real-life work environment it is also very important for a designer to get a large knowledge of manufacturing and production methods. I also would like to encourage all designer to follow the dreams and not to be afraid to build own company and become an entrepreneur. I think that is the best way to realize what you really want to do.Please, feel free to contact me for a chat or some advice whenever you like, I will do my best to help you. :)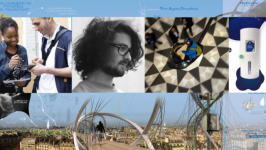 https://www.stratealumni.org/medias/image/thumbnail_19955551315ed180bcd2156.jpg
Veuillez vous connecter pour lire ou ajouter un commentaire